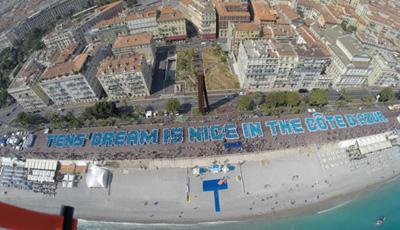 Tiens Group, led by Chinese billionaire Li Jinyuan, organized the vacation for half of its employees to commemorate the 20th anniversary of the multinational firm, which dabbles in everything from biotechnology to tourism and cosmetics.
The travelers took up almost 5,000 rooms in the French resort of Cannes and neighboring affluent microstate of Monaco, in addition to 140 Parisian hotels, according to the BBC. The Asian sightseers represents France's largest tour group, and were treated to a private tour of the Louvre and a live performance of the cabaret Moulin Rouge.
The trip will pump $14.6 million into the French economy.
For their part, Tiens' employees did not merely amble around gaping at France's cultural offerings. While on vacation, they also set an ambitious new Guinness World Record for the longest "human-made phrase" while on vacation.