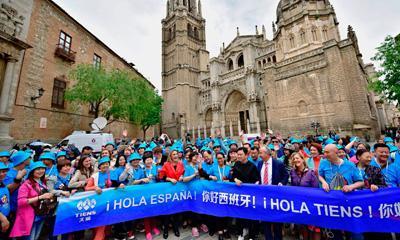 Two and half thousand Chinese workers have been enjoying the sights of Madrid after their boss stumped up €7m (£5.5m) to take them on a Spanish holiday.
Li Jinyuan, the billionaire owner of direct-sales firm Tiens Group, chartered 20 planes and booked 1,650 hotel rooms for the party. After their Madrid visit, the workers will board four specially reserved high-speed trains to Barcelona.
On Friday morning, the Moralzarzal bullring was a sea of blue caps and selfie sticks as the group attended a "bloodless" bullfight preceded by a flamenco dancing display. The workers then enjoyed a lunch of paella and sangría.
"We chose Spain because the people are warm, friendly and passionate," said Li Zongmin, the magnate's son and a Tiens vice-president. "Furthermore, the food is delicious."
France rolled out the red carpet for Li Jinyuan last year after he decided to send more than 6,400 of his employees there in what was reputedly the biggest tour group ever to visit the country.
For that mass holiday, Li, who is worth at least $5.9bn and has been ranked as China's 33rd richest person, splashed out on 84 planes, 200 hotels and a private tour of the Louvre.